01-22-2019, 02:31 PM (This post was last modified: 01-22-2019, 02:41 PM by CrystalBlazier.)
A new update went live on Skylanders: Ring of Heroes.
This event is available for 13 days.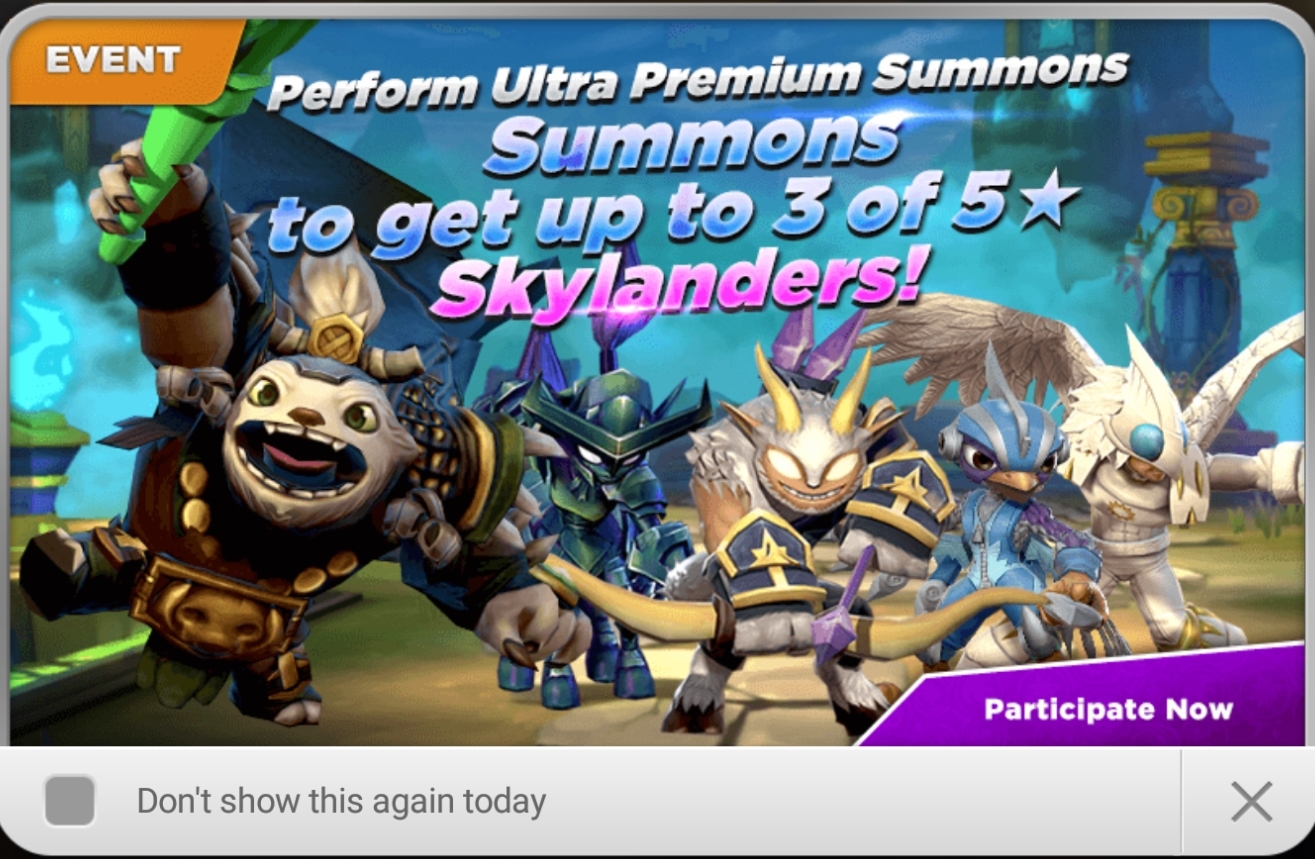 1. New Content: Friendly Match
- This is a REALTIME Arena mode where you can compete against other Portal Masters!
- You can enter Friendly Match from the Duels menu then to Friendly Match.
→ Quick: Random matches with current participants.
- Unlike the Arena, no Gears will be needed to play a match on Friendly Match.
* Private mode (against friends) will be added on future updates.
2. New Packages
- 4 brand new packages will be added.
1) Energy Package
- 300 Energy + 20 Red Potions (S)
2) Value Package 1
- 1,250 Gems + 450 Energy
3) Value Package 2
- 1,250 Gems + 45,000 Gold
4) Power-up Package
- 1,250 Gems + 250 Energy + 15 Red Potions (L)
3. Town Background Change
- Winter themed Skylands are now over! We're going back to original Skylands.
4. Improvements
1) UI Improvements
- Tutorial and Quest menus are revised to be more intuitive.
- Rune menu layout and usability has been improved.
- Tutorial features are added for more user-friendly experience.
- The battle result screen has been improved.
- The currency you get when defeated are displayed.
- Recommended guild display conditions are added.
- The info of Watcher stones in boss stages are now displayed in the battle preparation screen.
- The enemy team's power rating is also displayed in the battle prep screen.
2) Battle
- Invincibility buff will now remove all debuffs granted on the target.
- Behavior of Hot Dog when in auto-battle will be improved. (Fire Bark skill is now used more frequently when HP is low.)
3) Summoning
- You will be able to summon Skylanders with sufficient Soul Stones right from the result screen.
- The tutorial summoning has been re-vamped. (Previously: 1 type of 4★ → Changed to: 1 type of 4★ and Soul Stones of 2~4★)
4) Others
- You do not need to build a Spring of Souls anymore. We've done that for you.
- Amount of Gold required to use Red/ Blue Potions (L) and (XL) has been reduced!
1) Red Potion (L)
2,500 Gold → 2,000 Gold
2) Red Potion (XL)
12,500 Gold → 7,500 Gold
3) Blue Potion (L)
300 Gold → 250 Gold
4) Blue Potion (XL)
900 Gold → 550 Gold
* Gold cost per potion usage.
- More precise Power Rating calculations.
→ Displayed power rating may look different than previous rating due to the improvements in calculation method.
→ Summon Villain's power will also be included in the power rating calculation.
5. Bug Fixes
- Addressed typos on several skill descriptions translations.
- Correct Arena grade icons will be displayed at the top ranks.
- Incomplete requests will now show at the top of the guild support menu.
- Battle play time will now stop counting at the end of each battles.
- Skylanders will not be defeated anymore when Instant Defeat debuff is removed with a debuff removing effect.
- Distorted Dimensions' drop Rune info will show properly.
- Fixed a bug where buffs did not activate when summoning characters.
- No damage will be done with damaging effects while Invincible buff is active.
- Additional damage will be done to enemies for Awakened Chain Reaction while shield is active.
- Enigma's skill "Mystic Staff" now casts ATK UP to correct ally target.
- Skylander Soul Stones required to summon Krypt King has been addressed to the correct amount.
- The battle pause pop-up won't be exposed while auto battle is on.
- Nightshade will now activate counterattack when using a skill right after using the Clone skill.
- Fixed an issue where Shadow King Pen did not return to its original position during battles.
- The limits on deletions of friends per day will now reset every day.
- Auto battle won't be disabled if you tap the auto battle button while using the auto battle function.
- Fixed an issue where Tidepool's Whale Tale skill heals a random target.
- Fixed an issue where Cynder's passive skill 'Ghost effect' did not show when activated.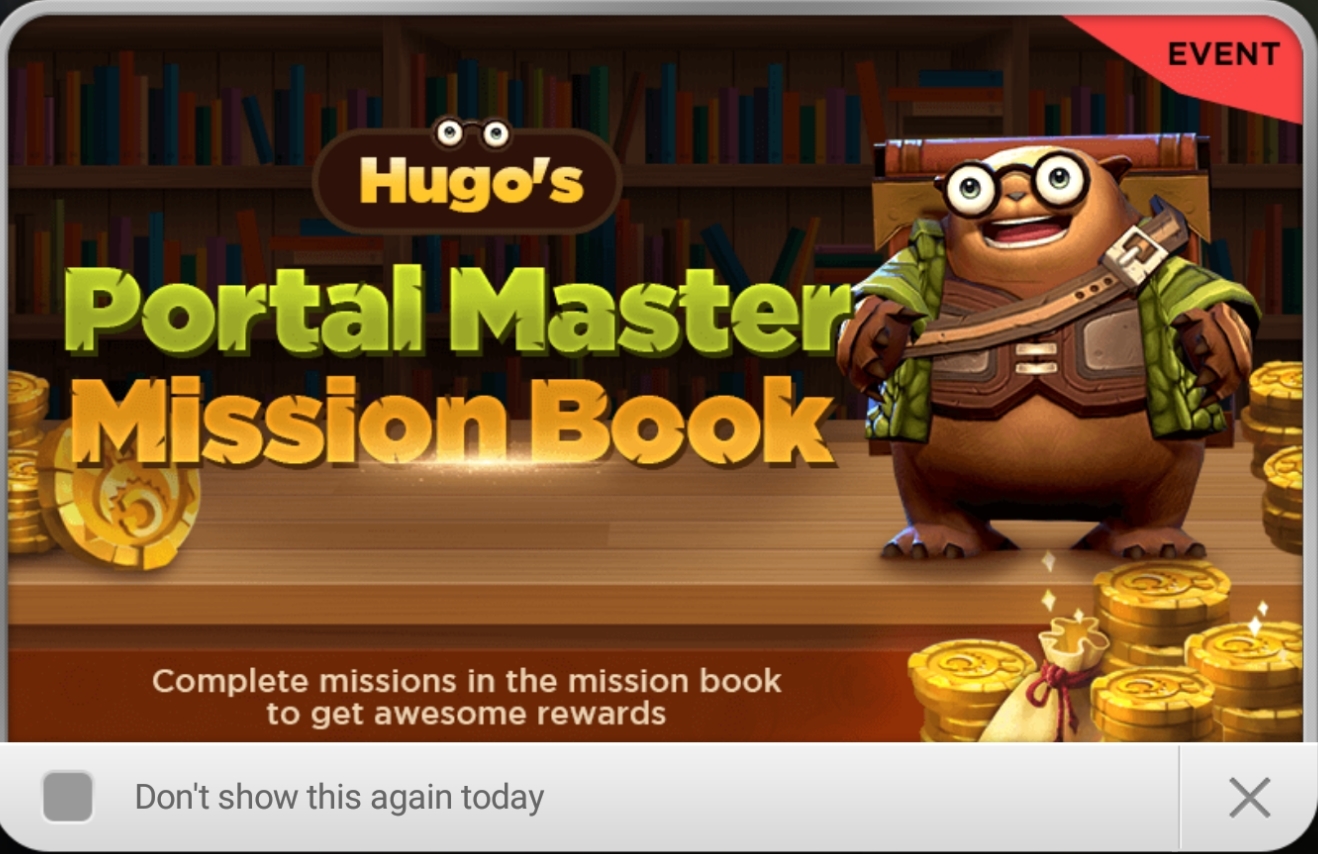 "Your past may be fragmented, but your present is what matters."